Long Distance Travel with Pets: The Ultimate Guide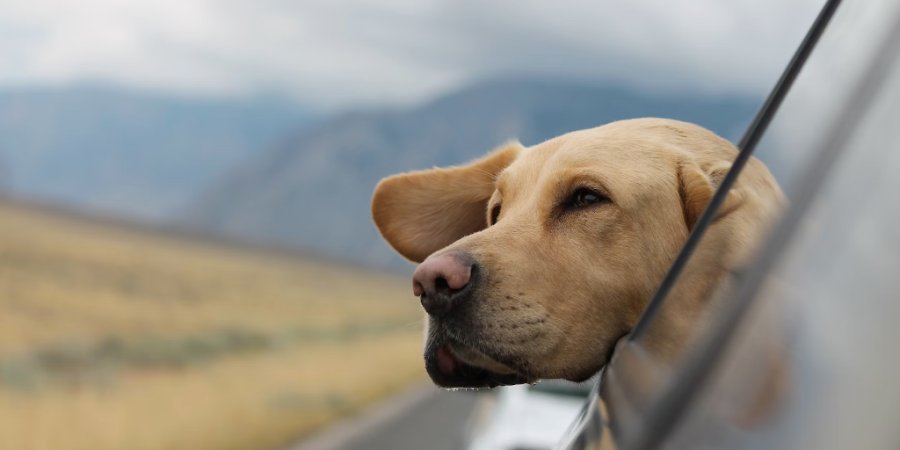 For pet owners, leaving your furry companion behind when you set off on a long road trip can be heartbreaking. Why miss out on the adventure and quality time together simply because you're traveling far from home? With the right preparation and planning, you can easily bring your pets along in the car for a fun and memorable trip.
Planning Ahead for Long Distance Travel with Pets
Before any long distance journey with pets, proper planning is crucial. Begin preparations at least a few weeks in advance of your departure date. Make sure to gradually get your pet used to car rides by taking them on short local drives. This helps minimize anxiety and carsickness when the actual long haul trip arrives. Schedule a pre-travel checkup with your veterinarian or a pet service provider to ensure your pet is healthy enough for extended travel and time away from home. Discuss any concerns about anxiety or motion sickness, and obtain needed medications, supplements or calming aids.
Here are some tips to get you started with planning:
Stock up on supplies: Bring enough food, water, bowls, leashes, towels, waste bags, cleaning products, and toys/treats to last the entire trip. Consider bringing extra just in case. Having supplies easily accessible in the car helps make stops quick and simple.
Get your pet used to the car: Take them on short drives leading up to the trip so they get comfortable in the car. This helps minimize anxiety and carsickness during the long drive.
Schedule consistent stops: Plan to stop every 3-4 hours to let your pet stretch their legs, go to the bathroom, and get fresh air/water. Stick to their regular feeding schedule as much as possible. Consistency helps keep your pet happy and healthy.
Prepare pet-friendly lodging: Research lodging options at your travel destination that accept pets. Vacation rentals and pet-friendly hotels are ideal for keeping your whole family together.
Check-in with your vet: Schedule a check-up prior to traveling to ensure your pet is healthy enough for the long trip. Discuss things like anxiety medication if needed.
Packing Smart for In-Car Pet Travel
Efficiently packing for in-car pet travel can make all the difference in your road trip experience. Be sure to include the proper sized pet carrier or crate, an abundance of waste bags for clean-up during potty stops, familiar toys and bedding to comfort your pet, bowls, leashes, medications, pet first-aid kit, and ample food and water. Use backseat harnesses or barriers to keep your pet safe while driving. If you have a small dog, consider getting them a dog car booster seat so they can see out the window during your travels.
Here are some car travel packing tips:
Pet carrier/crate: Necessary for safe travel. Look for appropriate size, ventilation, accessibility, and comfort. Consider a dog car seat for small pets.
Poop bags: Stock up on waste bags for easy clean-up during potty breaks. Designate a trash bag in the car.
Paper towels/cleaning supplies: Helpful for quickly handling any accidents or messes in the car. Pack extras just in case.
Food/treats: Bring more than enough food and favorite treats to avoid having to shop for more during the trip.
Medications: Don't forget medications, supplements, anxiety aids, etc. prescribed by your vet.
Collapsible food/water bowls: Useful during stops for quick food/water access without unpacking everything.
Familiar bedding: Include your pet's bed or blanket from home to help them feel comfortable.
Leash: For controlled pet exits/entries and potty walks at stopovers. Consider a hands-free leash for convenience.
Pet first-aid kit: Have essentials like bandages, antiseptic, gauze on hand for emergencies or injuries.
Keep Your Pet Happy and Healthy on the Road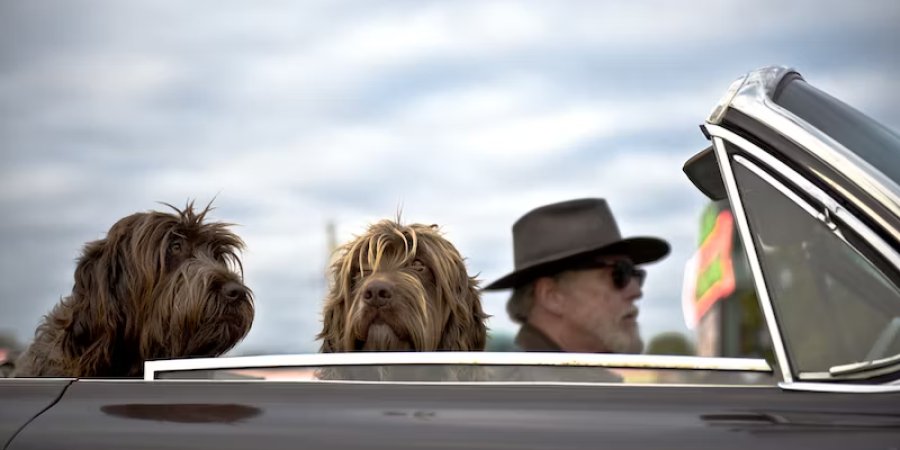 The goal on trip days should be keeping your furry friend as comfortable, healthy, stress-free, and entertained as possible. Make frequent stops every few hours to let them stretch their legs, relieve themselves, get fresh water, and enjoy a snack or two. Lower the windows for fresh air, play calming music, use pheromone sprays, and employ anti-nausea products if carsickness is an issue. Monitor your pet closely for signs of stress like whining, panting, or pacing. Never leave your pet alone in the car, and watch closely for potential overheating.
Here are some useful tips:
Prevent carsickness: Avoid feeding right before travel, lower windows for fresh air, play calming music, use anti-nausea products if needed.
Give comfy space: Ensure your pet has room to move and lie down. Use backseat harnesses/barriers for safety.
Add familiarity: Bring favorite toys or blankets from home for comfort. Use pheromone sprays to ease anxiety.
Monitor for stress: Keep an eye out for panting, whining, pacing, trembling. Stop for breaks if needed.
Entertain and distract: Pack interactive toys. Play music or books on tape. Give occasional treats or chews.
Hydrate frequently: Offer fresh water at every stop. Monitor intake to avoid accidents. Bring a spill-proof bowl.
Prevent overheating: Watch for signs of overheating like excessive panting. Lower windows, use fans/cooling items.
Practice good hygiene: Keep your pet and car clean. Groom and dispose waste before re-entry.
Get good exercise: Take regular potty walks and playtime during stops to stretch their legs.
Secure Pet-Friendly Lodging at Your Destination
Finding pet-welcoming lodging for overnight and extended stays is paramount. Research hotels, motels, cabins, vacation rentals, RV parks and campgrounds that allow pets before you hit the road. Compare location, restrictions, fees and amenities when choosing accommodations. Opt for lodging with enough space for your pet to relax and move around comfortably. Vacation rental homes often provide the most spacious and pet-friendly accommodations when you want your whole family by your side during the trip.
Here are pet-friendly lodging options to consider:
Pet-friendly hotels: Call ahead to confirm policies. Inquire about pet fees, size limits, allowed areas, walking areas. Avoid carpeted rooms.
Vacation rentals: Look for rental homes, cabins, condos that allow pets. More space and amenities than hotels. Cleaning fees common.
Campgrounds/RV parks: Great budget-friendly option allowing pets outside. Pick sites with shade, grass, amenities. Book ahead if possible.
Pet boarding/kennels: Useful for day trips where pets aren't allowed. Do research to find safe, reputable facilities you can trust.
Pet sitters: Hire a professional sitter to care for your pet in your lodging when away if needed. Ask for referrals and check reviews.
BringFido.com: Helpful accommodations search engine with filters for pet policies, amenities, reviews and more.
Address Special Needs for Safe Travel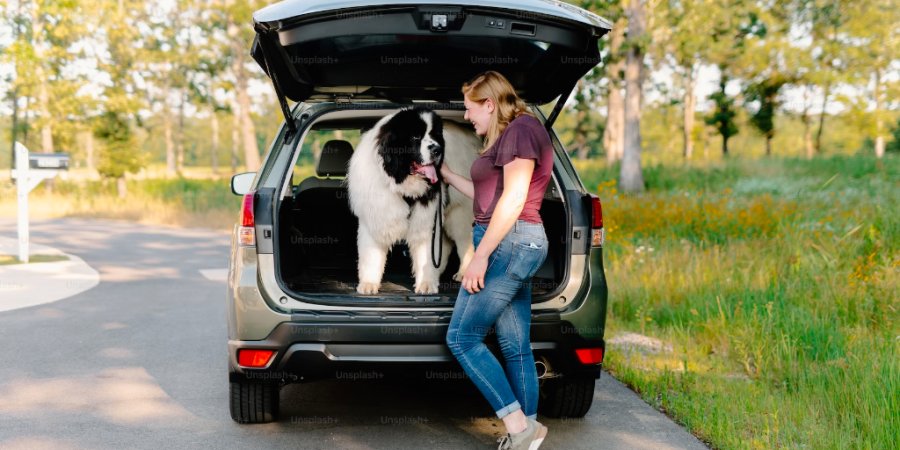 Consider any special needs your pet may have before embarking on extended travel. Make adequate preparations to keep puppies, senior pets, anxious animals, dogs with motion sickness, and pets with health conditions safe and at ease during the trip. Take precautions against your pet overheating by providing cooling accessories, sufficient ventilation, shade and ample water. Supervise them closely, and never leave your pet alone in the car. With thoughtful accommodations for your pet's specific needs, your long distance road trip can be enjoyable for everyone!
Here are some useful tips:
Puppies: Frequent bathroom breaks are a must. Bring pee pads, enzymatic cleaners and plan to stop hourly. Avoid long distance travel until they are trained.
Senior pets: Ask your vet if they are fit for travel. Bring medications, joint supplements, favorite beds/toys to aid comfort and reduce stress.
Anxious pets: Try calming aids like ThunderShirts, pheromone diffusers or calming treats. Maintain routines and familiarity.
Overheating: In hot climates, run AC, offer cool mats/bandanas, take shady stops, watch for signs of overheating. Don't leave pets alone.
Loose pets: Use secured carriers at all times. Never allow loose pets in the car, which can lead to dangerous distractions.
Emergencies: Know emergency vet contacts along your route. Bring a pet first aid kit. Attach your info to your pet's collar.
Conclusion
Bringing your beloved pet along for the ride allows you to fully relax and enjoy your travels without worrying about boarding them behind. Follow these tips to guarantee a smooth, fun-filled road trip with your furry co-pilot. With the right gear, preparations and pet-friendly planning, you can look forward to countless memories exploring new places together!
---
More to Read: